Joginder Nagar: one of the tehsils of the Mandi district of Himachal Pradesh, was earlier known as Sakrahati. The city was named Joginder Nagar after the famous King Joginder Sen of Mandi. There are famous attractions like Shanan Power House, Joginder Nagar railway station, Barot Himachal Pradesh and Winch Camp, etc…
Joginder Nagar is one such city in Asia with three hydroelectric power plants. Hence this city is also known as Electricity City.
The small and beautiful town named Joginder Nagar is situated at the northwest end of the Himalayan ranges. The city is located at the northeastern end of the Joginder Nagar valley, surrounded by mountains.
Joginder Nagar is at an altitude of 1,010 meters (3,314 ft) above sea level. Joginder Nagar pin code is 175015, and the old Pincode was 176120.
A painting by Raja Joginder Sen of Mandi, who was awarded the title of Sir, after whom the village of Sakarati was named Joginder Nagar.
Joginder Nagar provides all you need for a peaceful and pleasant vacation, and the area is ideal for trekking, fishing, sightseeing, picnics, and enjoyable drives.
Shanan Power House,
Electric House, Electric Project:
In 1925, Raja Jogindrasen, with the help of Karnel Batty, an English engineer, planned to build a power plant to generate electricity (Electric Project) from water near the village of Sakrahati.
Karnel Batty and his team made a tunnel to bring water to Joginder Nagar, several kilometers away from the Uhl river of Barot, located on the other side of the hill. 
Water was brought to Shanan by laying a pipeline in this tunnel where the Powe House (Shanan Power House) was built. Trolley lines were constructed from Shanan to Barot for over-hill movement and transportation of construction materials and machinery.
Later, a Power House was constructed near Shanan. Which is called Shanan Power House or Electric House or Electric Project.
Read More: Airports in Himachal Pradesh
A narrow railway line (Narrow Gauge Line) was laid from Pathankot to Joginder Nagar's Shanan to bring heavy machines imported from Britain. Trolley route was created for trolley assisted by iron ropes to carry goods from Shanan to Barot.
A reservoir was built at Barot. Joginder Nagar gained popularity in the country and abroad after the Power House construction was completed in 1932. It is the only city in Asia to have three simultaneous hydroelectric projects (Electric House, Electric Project) to generate electricity from water.
This is the only project in North India in Shanan of Joginder Nagar, which provides electricity to Punjab and Delhi at the same time. The city's economy was boosted when the water from the Shanan Power House built a power plant in Bassi in 1970.
This is the lowest cost Electric project in the country. Immediately after constructing the first Power House, the city's business suffered a significant setback after leaving thousands of laborers engaged in construction work.
Joginder Nagar railway station:
Joginder Nagar railway station is a railway station in Himachal Pradesh, India. which serves the town of Joginder Nagar. The station is located on the Kangra Valley Railway, administered by the Indian Railways' Northern Railway zone.
It is a tiny railway station situated near Joginder Nagar in the Himachal Pradesh district of Mandi. Joginder Nagar railway station is the last station of Mandi district.

History of
Joginder Nagar railway station:
Joginder Nagar is one of the few selected cities of Himachal, which is currently connected by rail facility. The city (Joginder Nagar) was once the largest potato production market in North India. Potato growing hills were not connected by road at that time.
The potato was brought to Joginder Nagar by about 2000 miles from far-flung areas of Mandi, Kullu, and Lahaul Spiti, sent further to West Bengal by rail traffic.
pathankot to joginder nagar train:
Three trains run from Pathankot to Joginder Nagar railway station. Morning, Afternoon, and Evening.
How to reach Joginder Nagar:
Joginder Nagar is the terminal of the Pathankot-bound small gauge rail route. It is about 37 kilometers from Palampur and near 75 kilometers from Mandi by road.
The nearest airports are in Gaggal (Kangra) and Bhunter (near Kullu), respectively. At all major stations, taxis and buses to Joginder Nagar are available.
The climate of Joginder Nagar:
During the winter, temperatures can hover barely above freezing, necessitating the use of heavy woolens. Summer is a moderate season, and light woolens/cotton are appropriate.
Barot Himachal Pradesh:
Barot, a village established in the 1920s for the Shanan Hydel Project, is today a popular tourist destination in the Brot Himachal Pradesh state of India. It was inaccessible until 1975 when a road was built. It is located 40 kilometers south of Jogindernagar and about 65 kilometers north of Mandi, the district headquarters.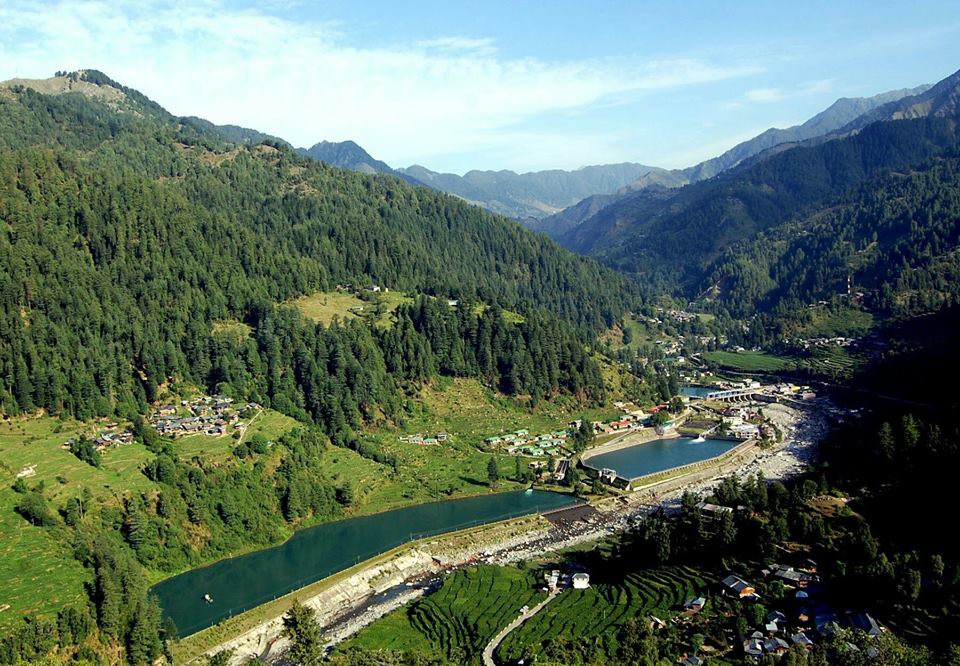 The route to Barot branches off from the Jogindernagar-Mandi Highway at a distance of 40 kilometers from Jogindernagar. Occasionally, it is possible to take the funicular trolley from Jogindernagar, reducing the distance to 12 kilometers.
The road winds through terraced fields and dense cedar woodlands until reaching the highland village of Jhatingri. The ruins of the former rulers of Mandi's summer palace are located here.
The route continues via the tiny settlement of Tikkan to Barot. Outdoor activities abound in the town, including a trout breeding center that discharged fish into the Uhl river. A 30-kilometer segment of the river is designated for fishing.
Brot is also the base for trek routes to Kullu & Kangra Valleys. This area is also famous for vegetables and pulse production. It has beautiful sceneries all around which attracts everyone. Thousands of tourists visit this place every year.
Additionally, Barot serves as a gateway to the Nargu Wildlife Sanctuary, which is located across the Uhl. Monal, black bear, and ghoral all call the sanctuary home. At Thaltuckhod and Silbandhwari, it contains forest rest homes. A hiking route through cedar and pine forests connects the sanctuary to Kullu.
The best season to visit Barot in India is between March and June and October and November when temperatures are pleasant or warm and rainfall is restricted to middling.
Barot Temperature:
In Barot, the average temperature is 30°C in May and 14°C in January.
Barot has a temperate climate. If you're curious about the average temperature in Barot or the average amount of precipitation (rain or snow),
Read More: Interesting Facts About Himachal Pradesh
If you are planning to visit Barot valley for snowfall, then in December, you will probably witness snow in bada gram around a half-hour ride from Barot valley. You can take taxis or local buses to reach bada gram at Barot.
Winch Camp:
The Winch Camp is located near Joginder Nagar at an elevation of 8000 feet. The summit on which Winch Camp is located is approximately 8800 feet in height. On the road to Winch Camp, you'll pass lush Buran forests. Burans are referred to locally as "Burah" or "Ke Phool." Burans flowers are used medicinally.
It is possible to see areas up to several kilometers distant from Winch Camp, including the Beas River, the Mandi Hills, and the Kangra and Hamirpur district lines. These hills get significant snowfall during the winter.
Snowfalls of up to four feet are not uncommon, giving the landscape here the appearance of heaven. To experience the snow during this time of year, locals, school and college students, and other tourists enjoy wandering across these snow-capped mountains and taking in the snowfall.
On the other hand, Hadgiyr is familiar with the transportation route of the hill (Haulage Way is located station). This location is situated at an elevation of 8300 feet.
Winch Camp Joginder Nagar:
This location appears to be expanding its natural splendor. The Himalayan mountains, which include the Dhauladhar hills, add to this area's attractiveness. This range is located 14050 feet above sea level. The descent from the headgear to the haulage carriage is considerable.
This location is referred to as Khooni Ghati (i.e., the hill of death). According to locals, there have been numerous accidents along this route. However, this cannot be confirmed. The next destination is Katheru, which is located approximately 7000 feet above sea level. The track for the next little travel is called zero point. This location is 6050 feet above sea level.
Thanks for reading. Any questions? comment below.