Himachali Topi (Pahari Topi) is the national identity of the Himachali people.
The Himachali topi is worn at weddings, festivals, religious rituals, fairs, and other community gatherings, similar to how the turban is used in other areas of India.
Historically, these vibrant caps, used to stave off the frigid winds, have evolved into a symbol of the state's cultural survival.
There is no greater souvenir or gift than a Himachali cap that symbolizes the state. Though the state is also known for other handicrafts, such as the magnificent Kullu shawls, nothing beats the charm of this traditional cap.
Today, the hill cap has become identified with the people of Himachal Pradesh. When any auspicious ceremony (marriage or other celebrations) takes place in Himachal, a Himachali cap is regarded as an essential gesture.
The Himachali cap is worn in various sections of the state in multiple colors such as green and red and is also associated with the state's pride. In Himachal, the cap is a symbol of satisfaction that is honored by guests at weddings and other events.
The Himachal cap (Himachali Topi) is typically worn by men, although ladies wear it as the Pang Himachal hat in the Kinnaur region. However, throughout the state, ladies often wear a different style of Dhatu (a headscarf).
Quote of Himachali Topi: Himachali cap is not only a cap but also a crown.
The Himachal cap (Himachali Topi) is typically embellished with a brooch, peacock feathers, marigold flowers, or the Himalayas Brahma Kamal (lotus Lord Brahma). Until the bird was classified as an endangered species, it was customarily dressed in beautifully colored monal (Impeian pheasant) feathers.
The bright-colored, woolen Himachali cap is a moment of honor for the people of Himachal, and it goes beyond just being a unique culture. Today, its colors are interpreted in terms of political allegiance.
History Of Himachali Topi (Pahari Topi)
Himachal cap (history of the Pahadi Cap)
However, the cap is primarily worn in Shimla, Kullu, Kinnaur, and other Himachal highlands. Historically, the Himachali topi spread from Kinnaur to sections of the old princely state of Bushahr, from where it migrated to other regions of Himachal, including Kullu, via some migrants.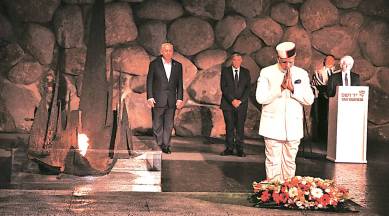 Previously, it was confined to a single state, but the Himachali cap has now crossed international borders. Prime Minister Shri Narendra Modi (Shri Narendra Modi Ji) wore a Himachal cap (Himachali Topi) during his visit to Israel.
President of the Republic Day parade on Rajpath in New Delhi, Shri Ram Nath Kovind (Shri Ram Nath Kovind), withdrew from the news during the dress Himachal cap (Himachali Topi).
There are mainly four types of Himachali Topi –
Kulluvi Topi

Bushahri Topi

Kinnauri Topi

Lahauli Topi
Their design varies according to region. However, the Bushhri cap is regarded as the ancestor of Himachal's traditional caps.
1. Kulluvi Cap – Kullu Cap
Kulluvi Topi has established a name for itself not only in Himachal but even internationally. Residents of the Kullu area mostly wear the Kulluvi cap. It is a global symbol that has tourists in a frenzy.
Kulluvi cap has a spherical shape and a multi-colored striped loop. On the front, a band of vibrantly colored borders bursting with intricate patterns covers the head, made of local woolen yarn and occasionally cotton or another light material.
How to wear Himachali Cap (Kulluvi Cap):
The loop is worn in this direction from right to left.
2. Bushahri Cap – The Bushahri Cap
The Bushahri Topi is embellished with a parrot-green velvet or shanil fabric strip.
How to wear Himachali Cap (Bushahri Cap):
Unlike the Kulluvi cap, the Bushhari cap's "loop is worn from left to right."
Interestingly, parrot-green was the state color of the former Bushahr state, as symbolized by the color loop on the cap.
Bushhari Topi is related to the Rampur district of Himachal Pradesh's Bushehar area. Bushhari hat has also been elevated to political prominence.
This is the cap that has become synonymous with Congress; former Himachal Pradesh Chief Minister Virbhadra Singh wore one.
3. The Kinnauri Cap – (Himachal Cap)
The Kinnauri topi, which is worn in the Kinnaur region, is similar to the Bushahri topi; to recognize this cap, look for a strip of crimson velvet or shanil cloth. The Kinnauri cap has also been elevated to political prominence; it has become the color of the BJP party's affiliation.
Shri Jai Ram Thakur, the current Chief Minister of Himachal Pradesh, used to wear a red velvet cap.
Read More: International Kullu Dussehra
4. Lahauli Cap
The Lahauli cap, worn in Himachal Pradesh's Lahaul region, is comparable to the Kulluvi cap. The rest of this cap remains simple. "
Quote of Himachali Topi: Himachali Topi / Pahari Topi, My Respect.
Quote of Himachali Topi: Himachali Topi / Pahari Topi, My Proud.
Being Himachali, I always like to wear Himachali Topi (Pahari Topi). It provides me with an understanding of Pahari culture and traditions. Since I was a child, I've seen individuals wearing Himachali caps.
Read More: Interesting Facts About Himachal Pradesh
Himachalis take pride in their hats. I'm not sure where this hat originated, but it has been a part of our traditional dress for centuries. Additionally, it is undoubtedly true that the Himachali cap originated in the Himachal hills. There is no way to adequately describe the bone-chilling cold found in Himachal's hills. Temperatures in some areas drop to – 10 ° C., And in such circumstances, we need to wrap ourselves to be warm, which is where these woolen caps come in handy.
Thanks for reading. Any questions? Comment below.